Saturday, 3rd August 2013 – Camping, Crafting & Choccywoccy Cafe…
The story to accompany this will follow – I've not been well and my eldest returned from camp after a whole week away so I've been spending my day snuggling up on the sofa with him and hearing all about his adventures!
More about that and this coming soon..!
So E returned full of stories albeit with very little voice to tell them with and looking far too exhausted to speak, be the end of the story he fell asleep almost upside down on the sofa! The camp had been given a Knights & Castles theme so on the final day they were all Knighted on the hobby horses they had made, crowned and presented with their badges and some camp memorabilia.
He earnt 4 badges which is a huge achievement – Scientist, DIY, Astronomer & Sports Enthusiast – I love the certificate stating the 4 awards which can be seen on silent sunday as it is a wonderful description of him. I was so unbelievably proud, the catapult that he created to earn the DIY badge looked professional when he first showed me I didn't realise he hadn't bought it.
It was hard letting him go for 6 nights  but I believe it's valuable experience for them and knew what a good time he'd have. Not having him around creates a huge hole in the house with his 3 younger siblings looking a little lost without their big brother. So what have we done to occupy our time!?
Well Madam and I went on an adventure of our own – more of that to follow later in the week..!!
That was enough excitement so in-between it's mostly been a quiet week (the absence of a large boy has that effect). Madam and I have done lots of crafting when the smaller two nap, there's been lots of plaster of paris, paint and moulds and some very pretty glitzy Globes we were sent to review. Madam's usually incredibly good with the smaller two and so whilst they are awake has been wonderful at setting up imaginary play for them and given me a chance to catch up with a bit of housework.
She was helped by the lovely Monster's University play tent we received from World's Apart. Monster's University is becoming a very popular theme in our house but if it's not in yours these come in a variety of character, themes and shapes. The Pop 'n' Fun Tents come out the box ready for play and are super easy to 'pop up', you just undo the velcro strap and they spring into shape – needing just one plastic rod in the top to keep it sturdy – Madam put ours together! There's plenty of room inside, they filled ours with cushions to make it cosy and then all 3 got inside and we think there'll be just enough space for E too when he gets back. I like the Monster shaped hole in the top of ours to peek in on the odd occasion they all go very quiet inside and they like it for jumping out and scaring me when I do!!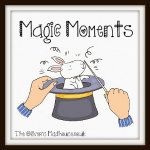 ~ We were sent some of these products to review but have only mentioned in this post because they added to this week's fun and always give our honest opinions ~