We were incredibly excited to be asked to be Ambassadors for the children's festival Lollibop this year. Last year we were still living in Ireland so unable to go but having read all the great reviews wouldn't have missed it this time!
We went without expectations or much of a plan although we were eager to see the Optimus Prime Truck, Play Skylanders SwapForce and watch Dick & Dom. We accomplished these missions and lots more and contrary to the mixed opinions on this year's event had an absolutely amazing time!
We arrived a little bit later than the 10am opening and there were no queues to get in although inside would be a different story as this years event was a sell out meaning that at times there were over 15,000 visitors.
We entered onto The Village Green to beautifully coloured tents, it looked bright and fun and the children were very excited to immediately see Lego Duplo, Wow Toys and Little Tikes Town. It was busy by the stands but the children didn't have any problems squeezing through to get a good look at everything. Tikes Town was very popular so there was always a little wait but it went very quickly and C was able to get a couple of goes whilst his elder siblings checked out the Discovery Zone and played with Top Trumps.
Examining the programme I quickly realised that one of our must catch shows was about to start so we dashed past everything else to the main stage grabbing a few freebies as we went. At this point the main arena was busy and most families had set up little areas with picnic blankets which I was now kicking myself for forgetting but managed to fashion one out of a poncho so I could stay in one spot and allow the big kids to get up closer to the action.
The area around the stage was dusty, the grass obviously scorched by this year's heat wave before it properly established, this was not something I would have considered to complain about. I felt the main stage area, surrounded by a huge variety of great food stands had a really cool festival vibe especially on the Sunday when we were blessed by wonderful weather.
Not long after Dick & Dom came the big names for this years show Hello Kitty (who was on whilst we had lunch and didn't pay much notice to) followed by Justin Fletcher. C was very excited to see 'Mr Tumble' and we squeezed in close at the side and got a great view helped by Alex Winters from Cbeebies (who acted as compare) sensible suggestion that because it was so busy everyone sit down so the children could see.
It was busy, heaving in fact and lots of parents who had arrived long before when it was much emptier and parked buggies right up front now found themselves in quite a crush a little in the way but unable to get out again. I was humoured by the folded buggies being passed over the heads of the crowd over the front railing in the same manner as passed out fans at rock concerts.
Justin Fletcher without the costumes or props he has on the television did not hold C's attention for very long so we wandered around whilst it was quieter. We played the brand new Skylanders SwapForce game, got a wonderful close up view of Optimus Prime and the boys didn't have to queue long for the Transformers Experience. River Island was a different story so we instead decided to grab some drinks and sit down for a while.
Away from the main arena there were lots of quiet spots to sit and enjoy with entertainers wandering around and lots to look at and see and do. Both the Lollipaladium and Lolli Kitchen were incredibly busy and not having planned to get there in time for a show it was hard to see what was going on but the children didn't mind.
We visited the hospitality tent to chat to other bloggers and grab a bottle of water but apart from being able to meet some of the stars and characters in a quieter setting I don't think this made our experience much different to other visitors. After 3pm the whole place was quieter and more relaxed so the children had their faces painted and we sat back for a while and just enjoyed being outside on a nice day.
We rounded off our day with Dick & Dom's second show which my husband enjoyed just as much as the kids shouting out and singing along whilst C and I sat back a bit and enjoyed an ice-cream.
I can see how the main stage area was overwhelming for younger ones and frustrating to get in and out of whilst busy but am surprised that those people became disappointed and didn't find plenty of entertainment to be had around the other stands. Just wandering around we met the dancers from the Go Go Go Show and various other characters. It is very difficult trying to appeal to all age groups and I felt just the nature of crowds makes the main stage less toddler friendly. I think it would have worked better to hold the toddler entertainment on a more intimate level in one of the other areas and put on more acts for older children who relished the festival atmosphere and hectic fun!
My tips for parents attending Lollibop 2014 would be:
Go with the flow enjoying the atmosphere of the day, if there's an act you are eager to see make sure you arrive in the area in plenty of time and don't hope to see acts too close together on the timetable if they're in different areas as it takes little legs a while to get between them and trying to rush from one place to another gets everyone harassed.
Don't forget a picnic blanket, drinks and snacks. Their was a wonderful variety of food stands selling reasonably priced food so you don't need to take a full meal but it's nice to have these things to hand to keep you hydrated and sugar levels up so you're not queuing for them whilst starving or completely parched!
There were two large buggy parks near the entrance, unless having a buggy is entirely necessary it's far more awkward trying to push one through crowds or across grass than allowing a toddler to wander around in their own time. They will experience the day far more fully like this than strapped into a chair.
By 3pm the whole place was quieter and calmer, so either plan to arrive and stay later or take it easy for the beginning planning to visit the crowded areas with long queues later in the day. The queues for Facepainting, River Island, Transformers and more were less than half what they had been around lunch time.
Have a wonderful time and we really hope to see you there!
For more opinions on Lollibop 2013 and tips for visitors see posts by:
Mammasaurus
Cafe Bebe
The Gully's Travels
All you need is Love and Cake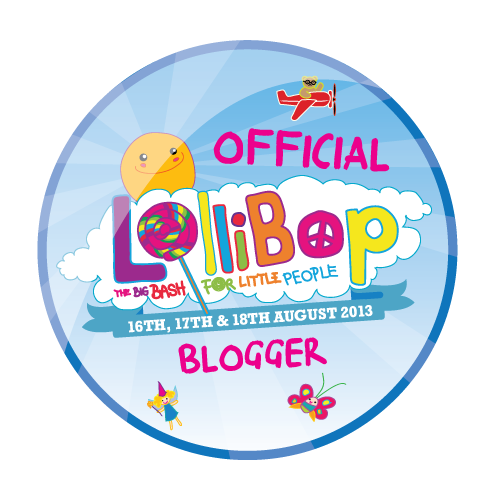 ~As Lollibop Ambassadors we received free tickets and entry to hospitality areas, all thoughts and opinions are our own~